Whether you're on your feet all day for work or planning a trip where you'll be walking for hours on end, it's CRUCIAL to find a pair of comfortable shoes that won't leave you in agony. The problem? Most of the "comfortable" footwear for women have not exactly been designed with aesthetics in mind.
The good news is that a number of new (and more old-school brands) have super comfy shoes for standing all day—it just takes a bit of research to figure out which are the best.
Below, you'll find a number of different categories: the most comfortable sneakers for travel, comfortable booties for standing all day, comfortable dress shoes for work, comfortable sandals for walking, and the best shoes for nurses.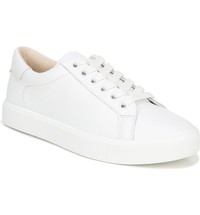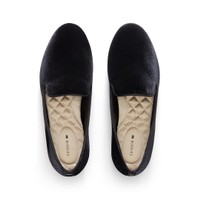 ---
Most Comfortable Walking Sneakers for Travel:
Look familiar? This popular sneaker has definitely popped up on your Instagram or Facebook feed before. Fairly new to the market, Allbirds' superfine merino wool sneakers bring comfort to a whole new level.
When you wear this shoe, it feels like you are wearing a cozy slipper, but with a bit more support. The wool is soft and not itchy, so you can rock these sock-free sneakers with your bare feet.
Perfect for traveling, Allbirds' wool runners are lightweight, breathable, durable and water-resistant.
Offering all day support and comfort, the Adidas Cloudfoam Pure running sneaker is an absolute essential for a jam packed day on your feet.
With a breathable upper knit and the signature Adidas three side stripe design, what's not to love? This sporty style sneaker has midsole and outsole cushioning that adds comfort and cuteness to each step.
With built-in arch support, this sneaker will keep your feet looking chic and feeling comfy. One Nordstrom customer raved, "I have 4 pairs of these for travel (black, white, cashmere and recently blue). The classic sneaker that works with outfits and does not compromise long walks like 10 miles."
And another said, "Any of these soft 7 shoes are a dream. I am 58 with troublesome feet. I can wear these to walk, shop or go to the zoo with my grandkids…comfort meets style! Had the black ones first, and had to go for the brown pair too."
White sneakers are one of the best closet staples—they also happen to be super comfortable if you pick the right pair. These lace-up Sam Edelman sneakers have a strong structure to offer support while still maintaining a forgiving, soft sole.
One reviewer noted that "not only do they feel fantastic all day on my feet but they go with any type of outfit."
These leather sneakers look super rich but come at a surprisingly affordable price point. I love that they come in seven different color options if you want something more unique than white. Reviewers have boasted about their comfort and have noted that they hold up to the test of time.
---
The Most Comfortable Boots for Standing All Day:
Sustainable, sleek and stylish? Say no more. These two-inch stacked Everlane booties are made of polyester, nylon, and 100% Italian leather. Fans of this bootie rave about its durability, comfort level, and timeless style.
Easily transition into fall and winter, and elevate any look with this heel that comes in black, bone white, or toffee. These would be great to wear to a concert or with a pair of black skinny jeans.
Rothy's, which are made from a stretchy knit material, are known to be comfy since they contour to your foot and stay in place rather than slip down while you walk. I'm sure you've seen their flats before, but these boots are an equally smart pick if you're looking for shoes that won't make your feet hurt.
To spread some love to professionals who spend a lot of time on their feet, the brand offers a discount to teachers, first responders medical professionals, and more.
Comfort meets serious style with these stretchy knit JSlides Slip-ons. As the weather gets colder, you may be tempted to purchase a pair UGGs. But if you wear this platform shoe, you won't have to compromise your style.
These slip-on sneaker boots will keep your feet comfy and cozy throughout the fall and winter. Wear them with black jeans and a blanket scarf to complete the look.
If you've followed me for quite some time then you likely know how much I love these over-the-knee boots. I have an entire blog post dedicated to my review on them.
When I tell you they're comfortable, I'm not exaggerating: I've worn them for 10-hour work days. I've worn them to events where I was on my feet all night. I've even worn them in the winter to run around New York City (where I live)—and I have never once felt uncomfortable in them.
---
The Most Comfortable Dress Shoes for Work:
I can personally vouch for this cult-favored shoe brand. I own 4 pairs. They are the perfect shoe to wear when you want to be comfortable, but also need to look trendy.
The footbed has a silky, quilted cushioning that I've previously described as "walking on a pillow." The best part? They come in 7 different combinations of colors and fabrics.
With a stylish cap toe and buckle detail, these ballet flats are a classic investment piece that you can wear for hours on end.
This particular style of AGL flats are known for their comfort and durability (particularly thanks to the elastic ribbing and leather and rubber sole for traction.) Given its soft leather footbed, this shoe is great for work. But it does run small, so make sure to order one size up.
What do Meghan Markle, Amal Clooney, and Lady Gaga have in common? They've all been spotted wearing Sarah Flint's "Perfect Pump."
If you're looking for a pump or stiletto that won't want to make you gouge your eyes out after an hour, these will be your savior. They have a wider toe box to ease the pain that usually comes with crowding, extra padding in the footbed, and anatomical arch support.
Classic, cute, COMFORTABLE. Remember all of those blisters you used to get from your old flats? Yeah, that won't happen if you invest in these sleek Italian leather slippers that are perfect for work.
One reviewer compared the feeling of walking on the 5 millimeters of foam padding and supportive insole to "walking on a cloud."
Not only do these flats have a revolutionarily swift break in time, but they also have an adjustable cord bow on the front to customize the fit. Pair this high quality shoe that comes in a variety of colors with your favorite loose-fitted dress for the ultimate comfort combo.
---
The Most Comfortable Sandals for Walking:
I bought a pair of these last summer and ended up LIVING in them. I didn't think it was possible to find a heeled sandal that I could run around for hours in, but I was proven wrong.
Between the cushioned footbed and the block heel, you'll feel like you're actually wearing flats—with the added height of a heeled sandal.
If you have a long day of walking ahead of you, but don't want to wear sneakers, opt for these Sorel sandals that come in 14 different colors.
Because one customer said, "I live in the mountains. This shoe is ideal for mountains and the city; ready to wear; comfortable the first day," it's no surprise this minimal, chic shoe is a Sorel top seller.
Featuring a soft suede upper, a comfortable EVA footbed, and a molded rubber sole, the Ella Sandal is meant for all-day wear and provides everyday traction.
Birkenstocks are an OG, reliable, consistent shoe. This iconic sandal is just as casual as any flimsy pair of flip flops, but provides much more support. Set on a shock-absorbing, flexible footbed with plush foam cushioning that mimics your foot shape, Birkenstocks offer superior comfort, so you can wear them all day long without any aches or pains
---
Best Shoes for Nurses:
These shoes have become really popular in recent months, after the brand had a collaboration with Outdoor Voices. Reviewers and friends of mine note how you can walk around or stand in them all day without any discomfort. Another perk: You don't have to break them in and deal with any pesky blisters.
They also hold up well in the washing machine—an added bonus for nurses who need to deep clean their work attire.
These might not be the cutest shoes on the market, but several nurses swear by them for long, 12-hour shifts. "These are the absolute best shoes in the world for nurses. I would say over 70% of nurses and doctors wear them—they're the popular style in the medical field," says Emily Besch, a nurse at Cedars Sinai in Beverly Hills.
Besch mentioned that the thick, cushiony sole also adds an extra couple of inches to your height, and that even though they aren't exactly a fashion statement, so many nurses wear them that it's not a big deal. Plus, when you're on your feet all day caring for other people, comfort level is more important than style.
Source: https://www.lindsaysilberman.com/lifestyle/best-shoes-for-standing-all-day/